I finally ditched the crutches and the cane and my brace is no longer locked! I know it seems like a little thing but it is such a big accomplishment for me! I also started physical therapy today. I was a tad scared that they were going to throw me on a table, face down and force my foot to touch my booty! Don't laugh! I really thought they were going to hurt me bad. Turns out that today was pretty easy. They asked tons of questions, measured my knee, measured my extension (I was at 6), measured my flexion (I was at 41) and watched me walk! Heal, toe, bend, repeat. Again, simple but much needed!

Then I was handed a list of printed exercises to do at home until my next appointment on Wednesday! Yup, I get to hurt myself in the comfort of my own home! No pain, no gain right? The Diva pushes me pretty hard so there is no cheating on this!

So what does the future hold? Well, I was thinking that running would be impossible before the 6 month mark but she said it was possible at 3 so we shall see! In the meantime, I continue to eat right and lose weight by the changes I have made in my diet! I can't tell you a number lost right now because the Diva dropped our scales and I have not been in a position to battle the back-to-school crowds to pick up another one! I do know that my clothes are too big and that is a good thing!

I will leave you with a picture of my biggest "problem" right now and that is keeping the bottom of my left foot clean! Lol! Yup, it is a running joke here at my house! As you can see, I have to use a mirror to see the horror that is my foot! Hope you all have a great week!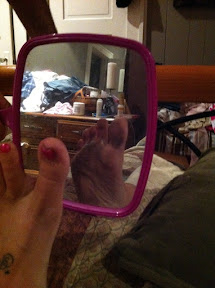 - Posted using BlogPress from my iPhone