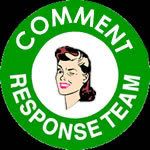 OK, March has been designated as Comment response month by the rest of the gang at our group blog called Sited and Blogged! If you have not checked it out, go there now!!! We really are a fun group!
What is comment response you may be asking? Well here is the scoop: make an effort to respond to your commentors everyday! It may be impossible to comment on all of them so do what you can, say 5 a day!
Hope March is great for all of you!